Relocating an office? With Bird's Moving & Storage, no problem
August 1, 2017 @ 10:48pm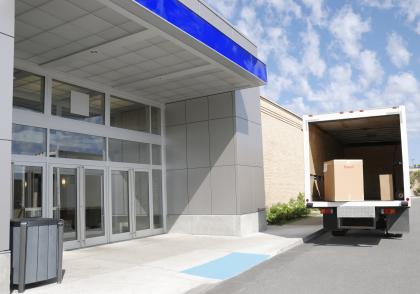 The statement most dreaded by any company's administrator is this one:
"We're moving to a new location."
Moving is scary, especially when it's your business that's changing locations.
Whether it's to a different part of town; to another province or to a different country altogether, Bird's Moving & Storage has what it takes to get you packed, loaded, transported and unpacked again, with minimal down time and as little disruption to your daily business as possible.
Bird's has earned a reputation in Niagara for being the best moving company to successfully handle the logistics of large and complex office and commercial relocations in the region.
In business ourselves since 1933, and working as a member of United Van Lines of Canada since 1959, Bird's has the experience you need to safely and securely move your business to a new location.
Bird's services are top of the line; our prices are competitive, and we have the same goals as you and your employees: Get moved out, get moved in and keep that business rolling.
Our success is due in part to the size of our fleet, combined with our experienced staff. Our expert team includes corporate moving specialists, who will work with you and your employees to organize the logistics of moving into your new space.
We'll be so familiar to you by the time the move actually happens, your staff will think we are part of their team.
They won't be wrong, because it takes teamwork to pack up an office and take it on the road, no matter how far away the planned destination might be.
Moving a corporate office isn't that different from moving your home: There's planning; inventorying and packing; loading up; travelling; unloading; unpacking and eventually, breathing a well-deserved sigh of relief.
Success is all in the organization. Bird's Moving & Storage has the experience necessary to successfully organize your corporate move. We work with your team, at your convenience, to ensure everyone has all the information and supplies necessary to get your office packed and moved. On moving day, we supply site supervisors at origin and destination to ensure that every piece of furniture and equipment is disassembled and reassembled, and placed exactly as you need it, typically based on your floor plan.
Unless your business can be conducted by employees in home offices, you will incur some down time. However, Bird's experts will endeavour to keep these delays to a minimum, so you will be relocated, up and running again in less time than it takes to plan the actual move as many date options are available all year round.
So, when the boss calls, and tells you you're moving, don't panic. Just call Bird's Moving & Storage for a fast, comprehensive and competitive quote on successfully relocating your office.
To find out how Bird's Moving & Storage experts can help your office move go smoothly, give our experts a call at 905-682-2646 and ask for John or Ian. Or, visit the contact page on Bird's website, at http://www.birdsmoving.com/contact-us.
We're Bird's Moving & Storage, bringing you flawless moves since 1933.
Comments