Bird's Moving: The Clear Choice for Professionals at Brock University
September 1, 2018 @ 12:00am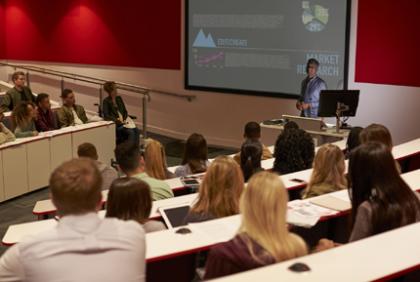 When you're in the beautiful town of St. Catharines, Ontario, it's important to consider how you're going to handle moving. If you're a professional at Brock University, you know that moving is stressful. However, Brock University has chosen to work with Bird's Moving as a result of their professionalism. The moving company works to provide both on site relocations and incoming staff relocations.
Moves Across Campus
Changes happen all the time. When it's time for a professor to be promoted or even take on a subject in a new building, there is a considerable amount of moving that takes place. This includes packing up a library of books, moving office furniture around, and much more. These moves are handled flawlessly by relying on the professionals at Bird's.
We have helped plenty of professors with moving. We have also helped entire departments when there has been a restructure on campus, such as when different departments switch buildings to establish a better flow at the University. We have partnered with Brock University for many years and look forward to many more in the future.
Focus on Life
You have a lot going on in your life. The last thing you need is to worry about packing up all of your possessions. This can be a time-consuming process, too. Professional movers can send packers to your campus office, classroom, or lab a few days before moving day. They will methodically go through your room, boxing up everything. This includes books, items in the drawers of your desk, and anything else that needs to be moved across the campus. If there are certain areas you want to box up yourself, simply let the movers know when they show up.
With professional movers doing all of the packing, you can rely on everything being boxed up properly.
Moving Day
Once moving day comes along, you don't want to be overwhelmed. You shouldn't be responsible for moving everything across campus. Instead, professional movers will do all of this for you. They will show up on moving day with professionally trained in-house movers, a reliable truck, as well as all of the equipment needed in order to move everything properly.
At Bird's Moving and Storage, we have the experience to take care of your move. As a professional, you should rely only on professionals to help you with such an important day. We will use dollies for the boxes and ensure that there is an extra set of hands when moving all furniture. This will prevent various scrapes and scratches that may otherwise occur if you try to move everything on your own. Plus, it saves your back from having to do any heavy lifting.
When you get the help on moving day, it allows you to focus on all of the other things you have going on. You may have to teach a class on campus, preventing you from overseeing the process. However, the University has relied on us for years and it's a responsibility that we take seriously.
Brock University trusts us to handle all of the inter-campus moves, as do many homeowners and business owners throughout Ontario. When you have a move, whether it's on campus or anywhere else, call us to schedule a professional moving service that you can rely on. We look forward to helping you move, regardless of how far it might be.
Comments