Moving Cross-Country with Young Children
April 26, 2021 @ 8:50am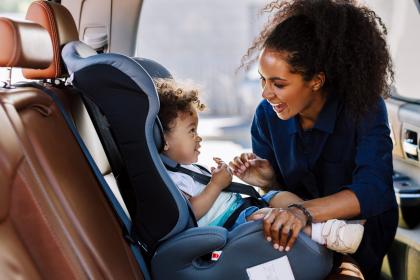 Moving can have its challenges at the best of times, but what happens when you're moving across the country with your young child or multiple children? Since moving is a big transition for parents and kids alike, your cross-country move will require you to think about how to best prepare not only your belongings, but also your family, for what's ahead. In addition to sorting items and finalizing moving arrangements, many parents who are moving will face challenges such as preserving their baby's sleep schedule, keeping their toddlers entertained and helping their children adjust to the idea of life in a new city.
And, if all that feels overwhelming, don't worry – your friends at Bird's Moving and Storage are here to help! Today, we're sharing some moving day tips that will help parents with young children keep their belongings organized and their children happy.
How Parents Can Prepare for Moving Day
Whether you're three years old or 30, adjusting to the idea of life in a new home or city comes with its fair share of excitement and nervousness. According to an article published by the New York Times, your child may experience "a number of challenging emotions during a move, from anger and anxiety to fear and sadness."
Although you can't predict how your child will handle your upcoming move, there are a variety of ways that you can help them prepare for, and even look forward to, a move across the country.
What to Do Before the Move:
Give Your Child Time to Process the Move: Parents.com recommends that parents "break the news" about the move to their children well ahead of the actual moving date. Because children may feel upset, sad or even excited about this decision, giving them time to adjust to the idea, and allowing them to ask questions, will give them the opportunity to process their feelings in a supportive manner.
Include Your Child in Your Moving Day Activities: Whether it's bringing your children to walk through your new house, having them label their own boxes or asking them to help you select the paint colour for their room, creating space for your children to give their input can make the move a more positive experience for your family.
Hire a St. Catharines Moving Company: at Bird's Moving Company, we understand that every move is different. And because no two moves are the same, our team of trained moving consultants will determine not only the cost of your move, but also create a household goods inventory so that you can have an itemized breakdown of your belongings.
Use a Pack/Unpack Service for Increased Organization: Having a young child or multiple children can make packing difficult, and finding the time to organize and pack up your home amidst an already-busy schedule might feel impossible! So, let Bird's Moving pack up for you! Our professional crew offers custom packing and crating options that will protect your valuables during the move. And our trained unpack service will ensure that your new home is organized and ready to enjoy.
Keep Essentials Close: Whether you're travelling by plane, car or another mode of transportation, be sure to pack essentials for your child, including clothes, favourite toys, books and anything else that would provide comfort and convenience during the trip. Avoid placing often-used items in the moving truck where they will be difficult to access!
Use Your Own Vehicle if Possible: If you're able, using your own car as a mode of transportation so that your family can travel together. This will help your children feel safe, comfortable and provide them with some sense of familiarity during your trip to your new home. Moving oversees? Ask us about our international moving services!
Find the Right Move for Your Family with Bird's Moving and Storage
Every family is different, so it's important to come up with a moving day solution that makes sense for yourself and your loved ones—especially your children! Whether you require specialized shipping containers or temporary storage solutions, our team of movers, packers and warehouse supervisors will help you create a moving day plan that caters to your children's needs. Call us today to discover moving solutions that work for your growing family!
Comments