Office Moving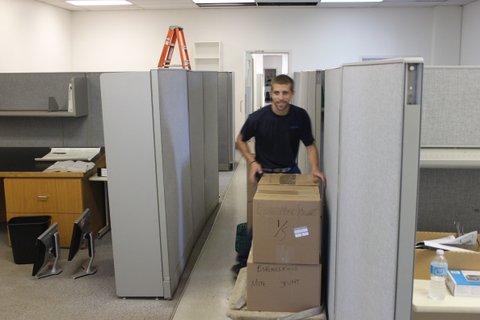 The biggest challenge is to do the job efficiently and minimize down time.
The success of any office relocation is measured by the sustained productivity of your staff while the move is being planned and executed. You don't want to compromise efficiency - you want the move performed with a minimum of interruption.
At Bird's Moving & Storage, we understand because efficiency is important to the success of our own company. So we service your office relocation with the planning and attention we would expect for ourselves. Our moving consultants will work with you to plan the entire process to suit your schedule. We will supply site supervisors at origin and destination to ensure that every piece of furniture and equipment is correctly labeled, disassembled and reassembled, and placed exactly as you need it.
Over the years Bird's Moving & Storage has earned the reputation as the best company to successfully handle all the details and logistics of the very large and complex office and commercial relocations in the Niagara Peninsula. The size of our fleet and the extensive experience of our staff is second to none.
Our trained staff can also look after removal & installation of decorations, clocks, signs, bulletin boards, etc. and if any furnishings are not being moved in right away, we can store them for you in our clean, secure warehouse where you can access them any time you want. Bird's has all the equipment to perform your office move to your complete satisfaction including moving bins, dollies, computer carts and other assorted specialized equipment.