An Ode to St. Catharines
September 3, 2021 @ 12:00pm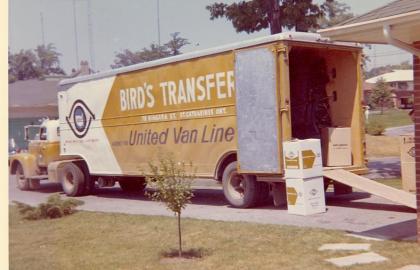 As a long-time St. Catharines moving company, we really do love this region and its people. That's why, for the month of September, we're celebrating our many years in Niagara, our history and why we're proud to be a part of the local community. We'll touch on some of the key services that we offer and feature the testimonials of some of the fine folks that we've had the pleasure of moving.
It's the Little Things That Keep Us Moving
Bird's Moving and Storage got its start in 1933. And, while our moving trucks, crews and building may have changed a little since then, our dedication to stellar service has remained constant through the years.
We want to provide our clients with resources that will help them find the perfect moving company! Because moving is a huge milestone in anyone's life, we encourage anyone who is moving to not only review a company's testimonials, but also do their own research to ensure that the moving company that they choose is reputable and compatible. Remember to search for moving companies on Better Business Bureau before you book. We recommend taking this extra step before finalizing a moving company, since it can give you a better understanding of your company's reputation and accreditation.
At Bird's Moving, we strive to be more than just a moving company. We want to be your peace of mind! And, over the years, we've developed services such as packing and unpacking, storage and long-distance moving to ensure that you have everything you need to make your move seamless. And after 90 years in business, we've supported both businesses and homeowners throughout all stages of their move.
From Our Local Businesses
From large scale offices to boutiques art galleries, Bird's Moving has had the pleasure of assisting local businesses and store owners relocate the contents of their business. Here are just a few reviews from satisfied businesses in the region:
From Paddy P. at the Shaw Festival: "Yesterday was our final move of three office moves involving 102 people! What can I say? Bird's Moving & Storage was absolutely amazing to work with and each complicated move went off without a hitch. Bird's Moving & Storage certainly has a glowing recommendation from Shaw Festival.
From Kenneth, gallery owner: "I just wanted to take a moment to tell you that your crew who moved our gallery on Monday were absolutely fantastic. A real tribute to your company. I will have no hesitation in recommending Bird's Moving anytime I hear of anyone contemplating moving. A job well done!!
From Our Homeowners
Whether they're moving locally or cross country, our clients can count on our packing, moving and storage services to make their move seamless. In addition to our local services, clients have also benefitted from long distance moves, which we're proud to offer through our partnership with United Van Lines. Here's what our clients have had to say about our services:
From Janice P: "I am writing to let you know about my move of eight pieces of furniture from here to Sudbury and how good those men are. They are truly professional. The furniture moved out of the house was so well wrapped and smooth that I was really impressed. It is 25 years since I have used Birds Moving & Storage and I had forgotten how great you guys are! Thanks for the "on time" service too. Much appreciated!"
From Deidre: "Wanted to thank you for an excellent move on Saturday. It all went really well. The 3 guys you sent were Absolutely Fantastic!!! They were the best guys I have encountered in moving yet to date. Thank you again for making my move smooth and enjoyable. Kudos to your team of guys."
Your Best Move Ever Starts with Bird's Moving
As we reflect on all the wonderful customers we have, we're more grateful than ever to welcome September with new and return clients. If you're thinking of kicking off September in a new location or city, contact Bird's Moving today to discover how we can help you make your move.
Comments