Moving in Together? Here is 5 Tips to Help
September 1, 2022 @ 12:00pm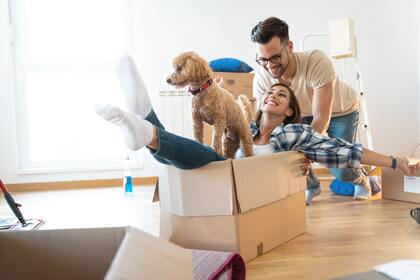 Are you thinking of moving in with your partner? Congratulations! Moving in together is a fun time of life. As a moving and packing company, Bird's moving has seen firsthand just how fun this process can be. One the other hand, we've also seen the stress that can come with making this transition.
In this blog, we'll outline 5 tips to help make the transition into cohabitation a seamless one.
1. Decide, do not default, to living together
Maybe it'll be good for you to save money living with your partner, or an old roommate of theirs just moved out. Sure, these are bonuses of moving in together, but are they reasons to do it?
When it comes to moving in together, you will want to consider the reason you want to cohabit and understand the deeper desire beyond the everyday conveniences. That way, as you make the next step, you will know that this transition supports the future you want to create with your partner.
2. Outline long-term goals
Moving in together may be a mutual choice, but what does it mean in the long term for each of you? Is this move a step towards more commitment, or are you content with simply sharing a space? Does your partner feel the same?
Understanding what moving in together is building towards, and being on the same page about it, will help you avoid awkward situations in the long-term where you may realize your goals don't align.
3. Set expectations early
As you move in together, you don't need to know everything up front, but talking about your expectations can save your sanity later. Who will take care of the chores? How will you handle disagreements? How often will you want company over? Will you celebrate holidays together in your home? Will you need to look at warehouse facilities to store items that you won't be using? When it comes to moving and packing, will you be heading to a new space together, or sharing a current one?
A lot of these things will work themselves out as you navigate your first few months living together, but big transitions are always better when you make them from a place of teamwork, clarity and intention.
4. Test it out
Odds are, if you're thinking of moving in together, you're already probably spending lots of time together. Whether you spend loads of time together already or you're just beginning to cohabit, testing out a few days of playing house is a great way to learn more about your partner.
Without sharing a space, it can be tricky to notice the little things about a person. Are they messy or tidy? What are their cleaning habits like? Do they wake up significantly earlier than you? Of course, none of these are make-or-break, but cohabiting for a short-term period will help you take a glimpse into your partner's lifestyle and find out if it's compatible with yours.
5. Talk about challenges
Hand in hand with the financial conversation comes the other anxieties you may have about moving in together. Do you have any doubts when it comes to finances, sharing a space or taking this next step? Your partner is a little nervous too. Ultimately, talking about challenges and insecurities will bring you closer together.
Being open and considerate with your partner to find solutions to them will help secure your relationship for the long run and make your relationship a success.
From warehouse facilities, moving, and packing, Bird's Moving is here for every transition of your life. We've been trusted to serve the Niagara area since 1933. If you're planning to move in with your partner, contact us today to find out how we can help you move!
Comments