How to Survive Moving During the Holiday Season
December 1, 2022 @ 12:00pm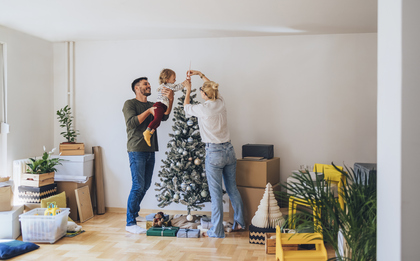 Between decking the halls, trimming the tree, and dashing all the way, you may find that there's just no time to move. Moving can be a stressful time and managing it all during the chaos of the holiday season is especially trying. That's why Bird's Moving is here to help.
To keep your stress low and your spirits high, we've put together our 5 best tips to help you survive this holiday move, without the added pressure. We'll be sharing our knowledge on booking your moving services, packing in advance, and keeping with seasonal traditions even as you pack up and get ready to go.
When it comes to moving around the holidays, the primary concerns are timing and organization. These days can get quite busy and keeping calm during the move is essential to make sure things go as smoothly as possible. So, when you're planning your holiday move, keep these ideas in mind:
Declutter before Moving
While most people's first idea of a big declutter is spring cleaning, the holidays are a great time to scale down. Moving into your new home with less clutter can help you keep it that way, and to feel refreshed along the way. Sometimes letting go of junk is just what we need. If you have any items you'd like stored away during your move, make sure you connect with us about our moving and storage services.
Move after Christmas
If it's at all possible, move after the 25th of December. Holiday decorations, presents, parties, and prep will be finished by then, and your family will have the space they need to get ready for the transition into a new home.
Take off the Party Pressure
Even if it's typically tradition for Christmas to be celebrated at your place, your family will understand if somebody else needs to step up, or if this year's celebration needs to be booked at a party hall. Especially if you move before Christmas, the pressure of knowing that everybody is coming to see your new home can be a bit much. Take the party pressure off and don't host this year.
Plan ahead when Packing Decorations
If it's not possible to move after Christmas, there are two ways you can maneuver the decorating dance. The first way is to decorate as usual, and simply pack those up last to set-up again at your new house. The other way to do it is to pack your decorations so that they're immediately accessible after the move. This was, your Niagara moving company will be able to help you unpack your decorations right away and make your new space merry and bright.
Label your Boxes Well, and Pack in Advance
Improperly labelled boxes will cause more confusion than it's worth. Bird's Moving provides you with moving services from start to finish. Our Niagara moving company will help you get packed up and settled in your new space and knowing what goes where is immensely helpful. It can also cut down on the time it takes to move you in so that you can get back to celebrating.
Something else we'd encourage you to do is to take time over the whole month to pack slowly and mindfully, rather than rushing the process as your moving date closes in. Not only will this help you keep a level head, but it'll help you get organized as fast as possible at the new house.
Bird's Moving: We're Here to Help
If you're looking for Niagara moving companies to help you get settled this holiday season, look no further than Bird's moving. Since 1933 we've been servicing the Niagara region and we're ready to get you where you need to go. We'll help you pack up, store your belongings, and feel comfortable in your new home this holiday season. Connect with us today to learn about our services and start moving right away!
Comments