5 Steps to a Quick Move
February 1, 2019 @ 12:00am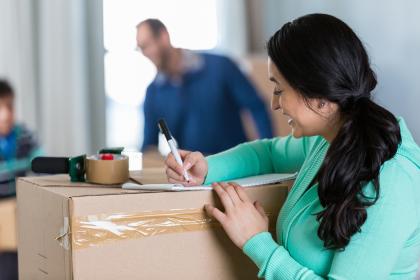 Did your home sell more quickly than you expected? Were you reluctantly putting a For Sale sign up, not really anticipating any interest until the spring market hit? You've got to move fast, literally, to make the transition a smooth one.
Once reality hits, time to decide what items you are taking. Look at your furniture first. Is it worth moving or are you downsizing and need to consider a donation?
Next, it's time to tackle all the clothes and linen closets. The less you move, means the less you need to unpack later. If you have not used it in years, decide if you need to donate it or throw it away.
Finally, how are you going to get it all to the new home? Here's a major issue that needs to be addressed as quickly as possible.
Step One: Select your moving company
Bird's Moving and Storage, a family owned moving company, has been around since 1933. We are efficient and dependable, regardless of whether you're moving across Canada, the United States or just across town. When you call to get your free quote, a representative comes to your home, looks at what you are moving and offers fair, competitive pricing. Leave the stress of the actual move to professionals and relish in the knowledge that your moving experience will be left in the hands of experts.
Step Two: Stock up on packing materials
We encourage using proper moving cartons for your upcoming relocation. They are specifically built to endure the trials of moving and are tried and true. We offer free used packing material when available, which are normally ones returned by previous customers in good condition, or we have a plethora of new cartons of all sizes available at additional cost. We also are able to supply items such as; mattress bags, shrink wrap, bubble wrap, packing paper and t.v. wraps!
Step Three: Seek packing assistance
Recruit those friends, cousins and colleagues and have them wrap, stack and pack all those boxes. It's only fair after all, you helped them do the same thing recently. Make sure the gentlest hands and excessive padding/protection is used to handle your china and crystal. There is probably a lot of sentimental value attached to it.
Step Four: Hire a professional
Forget steps two and three and have Bird's Moving and Storage, pack up all that lovely china, crystal, warm winter clothes and breezy summer flip flops. Imagine not having to scour the countryside for boxes, not having to beg friends to help you pack and being worried something you cherish might get broken. You have enough to deal with in a short period of time.
Step Five: Update your utilities
Contact all the utility companies to update your billing information to the new address upon closing of the old house. Don't forget about the cable company!
Finally, it's moving day. Take a minute to walk through your old house and say goodbye. Then, take a leisurely drive to the new place.
Meet the Bird's Moving and Storage crew at your new home. Since you have labeled the boxes appropriately, they will be placed in the rooms to which they belong, and you can get to unpacking.
Bird's Moving and Storage wants to make your move as stress-free as possible. Contact us for a free quote today.
Comments