But My Floors!
August 1, 2018 @ 12:00am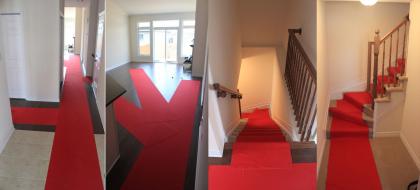 When you're moving, one thing it's easy to forget in the rush to properly pack and protect all your personal items is taking care of the floors.
Damage on the way out could potentially cause issues; if you're moving out before selling, serious floor or carpet damage could reduce what price you're able to receive. If it's already sold, those who bought your house could come in and claim they're no longer receiving exactly what they paid for. And you certainly don't want movers to harm the floors in your new house.
That's why Bird's Moving and Storage uses floor runners and moving pads, as necessary, to protect your floors as much as the items they're moving.
Moving pads are used to wrap and protect furniture, appliances, bookcases, dressers, tables—anything with corners or edges that can easily smack into walls and floors. Since it's rare that a move involves spaces so wide that no edge ever bumps into a wall, a floor, or a door frame, these pads are essential to protecting both the items being moved and the contacted surfaces. Most people are familiar with them, or at least the concept; any time you've wrapped sheets or blankets around a piece of furniture you wanted to protect, you've used a makeshift moving pad.
Bird's Moving uses moving pads designed for the purpose: thick enough to provide effective protection, but thin enough to not make moving through doorways more difficult. In addition, these moving pads are flat enough for furniture to lay upon them without damaging the floor. Once set safely on the pads, the moving team need only lift the piece of furniture slightly while someone pulls the pad free, then they set it down. Lowering the furniture a few inches is much safer for the floor than setting it down from a foot or two up, no matter how strong or experienced the movers are. This strategy is especially helpful for anything heavy going into a room with a hardwood floor.
Floor runners are less commonly known to the public, but even better for moving, as there are types to protect all surfaces: hardwood, laminate, carpet, linoleum, and almost anything else. Floor runners create a path for movers to travel that makes sure they touch the floor itself minimally, if at all. If you research them, you'll see they're the width of a thin pathway; however, there's no real limit to how many can be used at once, thus we can make sure your floors are as protected as necessary. No one ever needs to stomp around your clean carpets in muddy boots.
With over eighty years in the business, Bird's Moving and Storage has become a household name for residential moves, and earned a reputation as the best moving company for large and complex office and commercial relocations in St. Catharines, Niagara on the Lake and rest of the Niagara region. We take everything into account and can handle anything you need, from ensuring the health of your floors to planning the logistics of an international move.
To discuss your moving and storage needs, give our office a call at 905-682-2646. Send us a message here.
Comments