Improve Your Move with An At-Home Consultation
May 29, 2020 @ 10:33am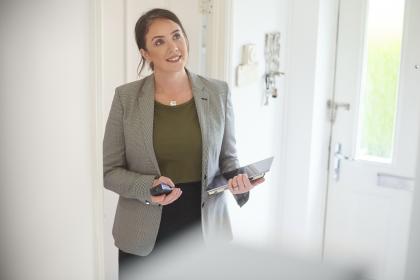 The convenience of modern technology has made it easy for us to run errands, order furniture, and communicate with family, friends, and co-workers all from the comfort of our home. And while we agree that there's certainly no place like home, the staff at Bird's Moving and Storage recognize the benefits of an at-home consultation.
As a St. Catharines moving company, serving the entire Niagara region, we want to get to know our clients before moving day. Although moving day seems straightforward, an initial consultation allows us to assess the accessibility, distance, and size of your home so we (and you!) know exactly what to do come moving day.
How to Plan Your Move
Are you ready to make your move? Well, before you get into the nitty-gritty, we suggest that you do your research.
Buying or selling your home is equal parts stressful and exciting, so planning your move as early as possible can help you alleviate moving-day jitters. Once you start, you'll want to consider not only the moving company's rates, but also their procedure. A personal milestone like moving requires care and attention, and you'll want to trust the movers to make that possible. But how can you be sure your movers are right for you? Insist on meeting them in person! Most moving companies will need to observe your house, its features, and your belongings before they can determine the services that you need.
As a St. Catharines moving company since 1933, we pride ourselves on our ability to serve our customers. Our team of professionals insist on meeting in person to assess your needs. Before you hire our services, we will conduct a thorough at-home survey that enables us to get a visual of your space. Our customized approach to your move will prepare us, and you, for moving day.
Why an at-Home Meeting Matters
It's not just your moving company that should insist on meeting in person: you should, too! Despite the efficiency of an online-booking or an over-the-phone consult, it's our belief that a well-organized team will always take the time to visit your home. Here are just a few reasons why you'll benefit from an -at-home consultation:
1. An at-home survey gives us a chance to assess the size of your home. Before getting anywhere close to moving day, our experts will conduct an in-home consultation. This is to determine how much there is to move, any factors that may play into added or reduced time (ex. Lots of stairs (add), boxes are in garage (reduce), etc), as well as any particular needs that you may have pertaining to the move. While creating an inventory is never perfect and an estimated weight, It's important for us to get an idea of the materials, the size of crew, and even the size of truck that will be needed to move your belongings safely and efficiently.
2. Predict any potential problems. We've been a St. Catharines moving company for many decades, so we always assess your hallways, stairways, and doorways to create a customized approach for your move. When it comes to relocating your precious belongings, we do everything we can to make sure we handle your furniture with the utmost care. We will come prepared with specialized equipment and are prepared to remove any doors, carpets, or other items that can inhibit the moving process. This also lets us identify any pieces of furniture that might require special care.
3. Survey the accessibility of your home: We always want to make sure it's easy to get in and out of your home, but we also like to determine how simple it is to actually get to your home. Meeting you at home gives us a good understanding of your home's parking situation and roadway access. This is especially important if you live in an apartment, on a narrow street, or have a shared driveway. A preliminary allows us to troubleshoot any of these obstacles.
4. Help us give you peace of mind. Moving is a big deal, and that's why we want you to feel totally confident and at ease. As a St. Catharines moving company, we want our clients to know and trust our services. Our at-home consultations give you an opportunity to express any concerns you have about moving day: Ask us questions, tell us about any items that are special to you, and let us take inventory so that everything is accounted for. We even provide packing and unpacking services, and supply packing materials. We want you to feel as prepared as we do.
5. A fair price. We want to ensure that you get the best price for your move. A meeting with you allows us to accurately and fairly calculate the total estimated cost of our services, including the number of movers, the expected duration of the move, and the distance to and from your home to your new location. We'll help you understand how our pricing works so that you can stay informed.
Your St. Catharines Moving Company Can Help!
Our home consultations aren't just for us—they're for you, too! You should always take the time to ask your moving company to set up a meeting with you so that you can get answers to your questions and understand our process before moving day. You'll meet with one of our knowledgeable moving consultants and can even request one of our moving-day checklists to keep your pack on track. Connect with Bird's Moving & Storage today to plan your best move.
Comments