Three Questions to Ask your Moving Company
December 31, 2019 @ 12:00pm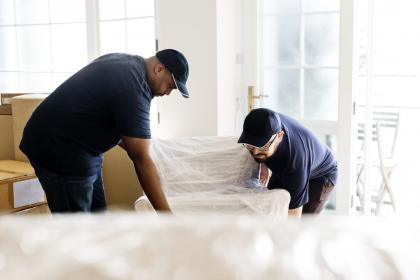 You've done the research: You've scoured the internet and read just about every one of those "best questions to ask before choosing a moving company" lists. You figured out what to ask before hiring the movers (that's us!), so let us help you to keep asking the right questions after you've finalized the moving date.
Now you've picked a moving company and feel a little more organized and a lot less stressed. So, what's next?
Don't pop that bottle of champagne to celebrate your superior planning just yet! As your St. Catharines moving company, we want to give you a little something extra to keep you grooving until moving day.
The Magic Questions
The three main questions we advise everyone to ask before deciding on a moving company are:
What Size Crew Can I Expect?
What is the Expected Duration of the Move?
Who is Supplying the Tools?
Educating yourself about the moving process doesn't require 50 questions when you have the right questions. Whether you're a family or individual in the eye of the moving process-storm, you may not have time or energy to even think about asking questions. Amid packing, making lunches, doing laundry, bringing kids to school and getting to work on time, trying to come up with the "right" questions is as daunting as the move itself.
Knowing why you should ask these questions will help you to succeed in all aspects of your move.
What Size Crew Can I Expect?
To clarify: we're not suggesting you ask how tall or burly the movers are.
Asking "what size crew can I expect" gives you an idea of the number of movers who will be present on moving day. Schedule a consultation beforehand to have an expert assess how much labour is required for the size of your home and the type of furniture you have.
Imagine you're a student moving from your parents' home to a one-bedroom apartment. Because you're a single person, you may not need more than two movers to assist you and your family with furniture. But, if you're a family of five plus two in-laws moving into a multi-story home, the sight of two movers might make you scream (at least internally!). Or, maybe you're as beloved as the Waltons and your whole neighborhood has offered to lend a hand; in that case you certainly wouldn't need a team of six movers.
Knowing the size of the crew, and whether they're a gang of rookies or veterans, will help you decide next steps. It's possible that, during peak seasons like spring or summer, there may be some seasonal employees who are still training and who must work alongside senior crew members.
As the premier moving company of the Niagara Region, we recognize that your unique circumstances demand alternate degrees of manpower! We are proud to offer customizable solutions to ensure that your possessions are moved efficiently and safely.
How Long Will Moving Take?
There's a colloquialism that says: timing is everything. And, as a St. Catharines moving company who's been around since 1933, we know a thing or two about time. It's always a good idea to ask your movers how long they expect the move to take.
Don't panic when you hear the projected moving time; instead, use the information to plan accordingly. If you know well in advance that your move could take eight hours, there are several things you can do to expedite the process. A timeline will enable you to re-evaluate the size of the moving crew if you feel the duration is unreasonable. If that's the case, you can revisit the first question with your moving consultant.
Next, take a moment to consider all the factors that could affect the time it takes to get everything out of your home such as:
Distance between your current location vs. where you are moving to.
Whether there's ample parking and easy access to your location.
How many rooms and flights of stairs there are in your current home as well as your new one.
Any items that are big/difficult to move.
Any items that need to be unassembled and reassembled.
Packing up ahead of time might be tedious, but it will save you hours the day-of.
Who's Bringing the Tools?
Our team is equipped with all sorts of tools so that we can hit the ground running come moving day. However, if you need furniture unassembled, or are worried about damaging freshly installed hardwood on your floors, you need to establish who is responsible for providing hardware and protection measures in advance. Giving your moving company a call ahead of time can prevent potential mishaps.
After over half a century in business, we pride ourselves on our preparation. If you're worried about your valuables and not sure how to pack them, or what you need to keep them safe, we also offer a full pack and unpack service.
If you have a particularly rare family heirloom or a unique antique that requires special transportation, Bird's Moving & Storage wants to maintain its integrity as much as you do!
That's It!
Bird's Moving has combined years of expertise plus countless trade secrets to come up with these three questions for you! Asking the right questions will generate meaningful answers. And if at the end of it all you decide that what you really need to know are your movers' favourite ice cream flavours, well, be our guest. Don't be afraid to make the first move: call us today to request a quote for your next move!
Comments