Moving Far, Far Away? Our Experience with Long Distance Moving
October 29, 2019 @ 11:23am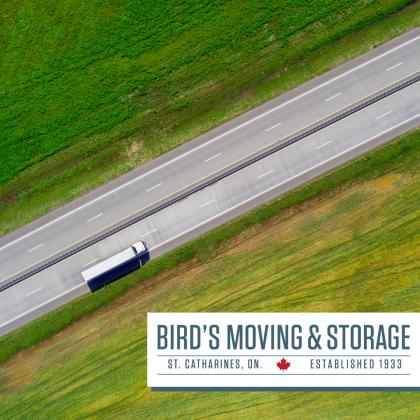 Moving long distance adds new challenges to the whole moving experience. Fortunately, you're not alone in this endeavor. With the help of great movers and a plan in hand, you'll be able to move across the country or even across the globe successfully.
As one of the leading St. Catharines moving companies, we're here to help. We've put together a list of planning strategies you need to perfectly coordinate your long-distance moving day.
Across Land or Overseas
The first factor to determine is whether you are moving over land or across the ocean. Moving by land, you'll want a continental long-distance moving service. Moving overseas, Your belongings are typically relocated by ship. Bird's, being affiliated with United Van Lines, is able to quote on all types of moves, including the more complicated long distance and oversea relocations!
Minimize your belongings
The moving process starts long before moving day, and most households begin with a practical, thorough cleaning and discarding. The farther your long-distance move is, the less you want to pay to relocate items that don't matter as much to you. We all build up clutter, every home has a closet or two full of things you don't need or barely use. Now is the time to hold a garage sale, sell that stuff on eBay, donate it or even call a junk removal company. There are many avenues to lighten your load.
Forward Mail & Update Your Address Everywhere
Put some thought into your mail and your new mailing address. Start by registering for mail forwarding with the post office, as this is a good catch-all policy. So, the next step is to list all the services, bills, and publications which are important and contact these companies to update your mailing address ahead of time. For convenience sake, most of these tasks can be done simply by logging into your online account and making the necessary changes.
Cancel or Transfer Your Utilities
Next up on your to-do list, call the utility companies and set the cancellation date for a day or two after you plan to load the truck and leave. Of course, utilities in this case should include everything from the water bill to your cable TV subscription. Depending on where you're moving, you may be able to transfer your account to the new address. Otherwise, cancel your current account and then be sure to open a new one so all your services are ready to go when you arrive at your new home.
Pack Your Travel Luggage and Essentials Boxes
Before you pack the whole house, pack the essentials that you'll need for travel and the duration of moving-day. Pack the luggage and carry-ons you will travel with including a few changes of clothes, toiletries and phone chargers. It's also a great idea to pack one or more 'essentials' boxes that will be loaded into the truck last and unloaded first. These are things you'll want accessible as soon as you arrive without having to dig through boxes to find what you need.
Pack Everything Efficiently with Clear Labels
When you pack up, do so efficiently and in an organized fashion. Pack room-by-room and wrap categories and setups together. Then label each box clearly for the room it is going to and what's inside. If this task seems overwhelming, we at Bird's Moving are more than happy to help. We have a great deal of experience with household packing services.
Work Directly With Us
After providing you with an onsite consultation and the following quotation; It is time to firm up your move date. As a leading St. Catharines moving company, we work closely with you to ensure the entire moving team is on the same page. From the building of the foundation of the move during the consultation to the execution with our crew during move day; We understand the importance of taking care of your possessions during the trip. Bird's Moving will help arrange for land or sea transportation of your belongings exactly as you need it.
Long-Distance Moving with Confidence
When everything is boxed up and squared away, you can look at the empty home you are leaving with confidence that your long distance move is properly taken care of. Moving day doesn't have to be intimidating when you've got a solid plan in-hand. Contact us to discuss how Bird's Moving and Storage can help make your long-distance move a simple one.
Comments