Professional Movers Make Moving Awkward Furniture Easy
April 30, 2020 @ 9:28pm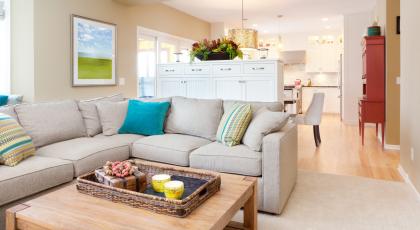 Remember that vintage sofa you bought? It really tied the room together. But, now that you're moving, you're worried that you might have to leave that fantastic piece behind! You've tried everything and it still won't make it through the door. It made it into your house once before, so why are you having trouble getting it out?
When you don't have time to come up with complex manoeuvres or algorithms that will get your furniture from point A to B, it's time to give a Niagara moving company a call. Our team has had the pleasure of serving Niagara for many decades and we all know a tricky piece of furniture when we see it, from a heavy chaise lounge to an impossibly large La-Z-Boy.
How a Professional Mover Can Help
We know that moving furniture seems like a straightforward task. So why do you need movers to help you do it? Well, if you have a tough-to-move piece of furniture, and you live in Niagara, give us a call to help you get moving! Or, if you're unsure about what you want to take to your new home, we have a solution for that, too.
Here are just a few things professional movers consider when moving heavy or oddly shaped furniture:
· The layout of your home: a professional moving company will always take a detailed inventory of your belongings when called in to help you move. Knowing the layout of your home allows movers to prepare for any tight corners or flights of stairs encountered during the moving process; whether you live in a bungalow or an apartment with no elevator, it helps for movers to know what they're up against!
· Precise measurements: lifting a couch is one thing. But carrying it out into the door and down the hallway? That's a whole new territory! And not all door frames are created equal. Professional movers take all the necessary measurements so that we get the move right the first time. A detailed set of measurements also prevents your walls or doorframes from potential scuffing as a result of flustered rearranging!
· Proper packing techniques: A professionally packed or wrapped sofa or dining set can help keep your furniture safe during its commute across town and make it easier to move around your house. Imagine trying to move a cabinet or dresser without securing its drawers or its cabinets! Keep your move easy and safe with professional packing services.
· Take it apart: Your gargantuan sectional is tough to move in once piece, so why not try taking it apart? Some furniture is made up of multiple pieces and can be disassembled, then reassembled, for easy moving. If you're able, fold up bed frames, removed cushions, and unscrew mirrors ahead of time to make clumsy-sized items manageable. Recruit a trusted Niagara moving company to help!
· Professional equipment: You never know when you might need a ramp, dolly, or screwdriver to help keep moving day on track. Maybe those table legs can come off or a door needs to be removed. Professional movers will arrive with everything they need to make your move a success!
A Niagara Moving Company That Fits All Your Needs!
As a Niagara moving company, we are confident that our trusted team of professionals can create a customized plan that suits your needs. We want you to make a fresh start on your own terms. Don't break a sweat or pull a muscle trying to corral your furniture to the moving van; our professional team will help you come up with a moving day plan that is efficient and safe. Give us a call today and let us do the heavy lifting. And, if you have something you can't bring along to your new place, but you're not willing to part with just yet, ask us about our storage services, too!
Comments