Tips for Planning Your Office Move
June 1, 2022 @ 12:00pm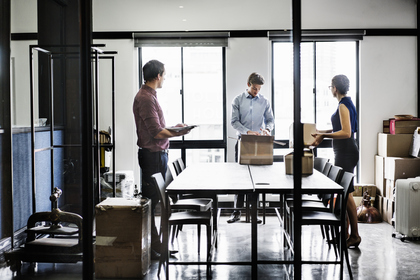 Relocating to a new office can be a challenge. Not only do you have to ensure everything is labeled, packed up and ready to go, but you have to do so while working your regular 9 to 5.
Having a plan in place can help smooth out the process and ensure you and your team remain productive and efficient up to–and following– your move.
To help get you started, here are some tips for co-ordinating a stress-free office move:
Create a schedule
Establishing a schedule is a great first step in ensuring a seamless relocation.
You can start by taking a good look at the size of your office and how much furniture and equipment you have. This will help you determine how long the moving process should take.
Creating a thorough to-do list in addition to your schedule is also not a bad idea. On the list you could include what you'll need to pack, meetings that need to be rescheduled, and clients and suppliers that need to be notified about the move.
Utilize your team
Relocating to a new office is not a one-person task – it requires teamwork.
Consider bringing in an employee from each department to make up your moving team. Once you have your volunteers, brainstorm how you plan on delegating tasks. Assigning tasks will help you manage your business's daily operations as you plan for the big move.
Each department should also start thinking about the layout of the new office. How will each department be laid out? Where will the breakroom be? Having a plan that extends beyond just bringing boxes to the new office will make moving into your new workspace a breeze!
Donate items you no longer need
Before you start packing anything into boxes, take stock of what you currently have. Is there anything you don't need anymore? How about that paper shredder covered in dust?
Instead of taking it with you and crowding up your new office, consider donating these items.
Don't leave packing to the last minute
Once you know what items are joining you on your move, start packing! You don't have to wait until it's a week away. Start by packing items your team doesn't use as much and work your up to the items that are used most often.
Trust us, by packing little by little, the overall process will feel much more manageable.
Labelling is key to success
There's nothing worse than arriving at your new office and realizing you have no idea which items are in which box – leaving you no other option than to frantically rummage through each one until you find what you're looking for.
Carefully labelling each box prevents this.
For maximum efficiency we suggest labelling each box with a location and number and keeping a corresponding spreadsheet that lists each box number and the items that are inside. This might seem like a lot of extra work, but it will make things a lot easier in the long haul.
Keep everyone informed
Your team aren't the only ones who need to know about your move. Creditors, the bank, the post office and your clients will also need to be informed.
You'll also need to update the address on your company's website and business cards.
Hire Bird's Moving for help!
Relocating to a new office can be a lot of work, let us help!
Bird's Moving and Storage has been offering corporate moving services to the Niagara Region since 1933! Our moving consultants promise to work around your schedule and ensure all furniture and equipment is correctly labelled, disassembled and reassembled and placed exactly as you need it.
To receive a quote, call us at 905-682-2646, 1-800-263-2479, or contact us on our website.
Comments