Make your summer move seamless
July 4, 2022 @ 12:00pm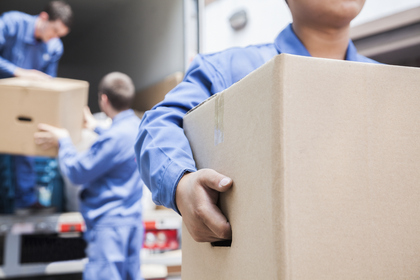 Although moving in the summer may seem simpler than the winter, it brings with it its own set of unique challenges like hot temperatures, sunburns and dehydration. But don't worry–we've got you covered!
This blog will list 9 tips to beat the heat and ensure your summer move is seamless! Let's get to it.
Hire movers ahead of time
The first thing you need to decide when planning your move is whether you'll handle the move yourself or hire professionals. While handling the move yourself will save you money, hiring a moving company will save you a lot of time and energy.
If you decide to go with a moving or packing company, make sure to secure arrangements well in advance as summer is the busiest time of the year for movers.
Start preparing for your move ASAP
A successful summer move requires strategic planning and impeccable organization. Once you've settled on your movers, consider giving them a call and making a rough plan for moving day. If you have any questions about the big day, now would be a great time to ask. For example, you can ask about estimated start and end times and whether there are any items that can't be moved. After you have this rough plan in place, you can begin to organize tasks on your end.
Prepare bottled water
During a summer move, it's incredibly important that you, your family and your movers stay hydrated. The last thing you want on moving day is for someone to fall victim to dehydration or heat stroke.
Plan ahead by stocking a cooler full of water bottles for you and your movers the night before. Just don't forget to fill it with ice the next morning!
Get an early start
The intensity of the sun and UV rays are found to be strongest between 11 am and 3 pm so aim to get all the heavy lifting done before then.
Dress light
When dressing for the big day, go for something lightweight and breathable. Stay clear of dark colours and synthetic fabrics as these tend to force your body to sweat more.
For footwear skip the sandals and flip-flops and grab a pair of closed-toe shoes. Trust us, the last thing you want is to drop something heavy on your bare toes.
For additional protection, throw on a hat and grab a pair of polarized sunglasses.
Don't forget sunscreen
Before you do anything outdoors, lather yourself in some quality sunscreen.
Dermatologists recommend using a sunscreen with an SPF of at least 30 and applying it to all parts of your body that aren't covered. You'll also want to make sure it's waterproof as you'll most definitely be working up a sweat.
Be mindful of heat-sensitive items
Not all your belongings are built for the heat. Electronics, candles, and medicines are just some of the items that require special care during your summer move. Instead of loading them on the moving truck, set them aside and bring them along with you in your climate-controlled vehicle.
If you are unable to bring heat-sensitive items with you in your vehicle, we suggest packing them separate from other items and placing them on the moving truck last so that they are the first to unload once you arrive at your new place.
Turn on AC before you move
The day before your move, stop by your new home and turn on the ac. This lifesaving tip can make all the difference between a smooth transition and a sticky one. If you're moving quite a distance away from your current home and this just isn't feasible, that's okay too. Just make sure to switch it on as soon as you arrive.
Hire Bird's Moving to ensure a seamless summer move!
While there are countless moving companies in the St. Catharines area, there are none that do it quite as well as Bird's Moving. Our team is dedicated to providing you with exceptional service as well as fair and competitive pricing. Give us a call or visit our website today to book an in-home consultation.
Comments