Tips for Moving to University or College
August 2, 2022 @ 12:00pm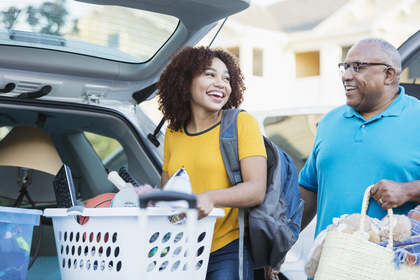 Heading off to school is an exciting time! You get to meet new people and venture out into a new city. But without careful preparation, this exciting time could become quite stressful. As a St. Catharines moving and storage company, Bird's moving has seen first-hand just how much of a difference a well-planned move makes. That's why we've gathered some of our top packing tips to help prepare you for moving day. Here are the dos and don'ts of moving to you next stage of life.
Do connect with your roommate.
Collaborating is great if you'll be sharing a room. Not only does this save space for both of you, but it's a great chance to start getting to know your new friend ahead of time. Check in with your roomie ahead of time to coordinate the big and small things like a minifridge, microwave and decorations.
Don't forget to pack cleaning items
A small vacuum and spray sanitizer is essential for keeping your space fresh. Students spend a lot of time in their bedrooms sleeping, eating, studying, and hanging out with friends. Since this space is going to be central to your life away from home, maintaining your environment's cleanliness and comfort is a top priority. Additionally, items like this are a great example of why coordinating with your roommate is a good plan.
Do leave prohibited items at home.
Your dorm room or residence will likely have a code that you'll be required to follow when it comes to what you can and can't bring. Items like hotplates, candles and lava lamps might be fun, but it's best to be sure that they'll be welcome in your new room before packing up for your move. If you have some treasures at home that won't be coming with you.
Don't skimp on the basics.
You'll want to consider a moving to storage strategy for things you don't need right away (out of season clothes, old items you aren't taking). Being deliberate about what you bring will save space as you're moving and, in your room, but skimping on essentials is not the way to go. When deciding what goes to storage and what moves with you, extra socks, pillows, blankets, towels, even toothpaste are all a good call.
Do plan early.
Booking a moving company can help maintain your peace-of-mind as you get ready for this next step. Bird's moving and storage is an excellent resource to help you get packed up properly. We've been serving the Niagara Peninsula since 1933 and can help make your move seamless. When moving, it's always best to book your moving date as early as you can to avoid any inconveniences.
Don't forget comfort items.
There are some things you'll really miss if they're in storage when you're moving away from home. Take some time to think about what you'll really need to make the first weeks in your new space as comfortable as it can be.
Do stay organized.
If your move-in date is coming up fast, it's tempting to throw everything in whatever box you can find, but when it comes to packing, our St. Catharines movers have seen it all. We can confidently say that unpacking will be much more effective, seamless, and stress-free if you know where everything is from the get-go. This will be especially helpful for your movers but will also save you the overwhelm as you take your next step.
As St. Catharines movers, Bird's Moving understands how important it is that you have peace-of-mind during the transition into post-secondary living. We're dedicated to helping make your move the best it can be. Contact us today to schedule your move!
Comments