7 How-to Tips to Prepare Your Vehicle for Shipment
November 1, 2022 @ 12:00pm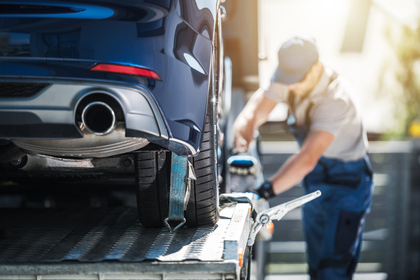 Long-distance movers know how to get the job done when it comes to keeping your car safe during this transition. Bird's Moving auto shipping can help you transport your car from A to B without the long drive in between. As established St. Catharines movers, we're ready to help you get your car ready for its big adventure!
When it comes to shipping a vehicle long-distances, your preparation will look a little different than it will for moving other goods. This blog is going to outline 7 best practices when it comes to getting your car all the way to your new home.
Disable the alarms
You might not think of this one right off the bat, but if your car's alarm system starts wailing on the road, there isn't much that can be done. That's going to be a long drive for your movers. So, it's best to make sure that the car is locked, and that the system is disabled.
Perform a thorough inspection
Before loading up your vehicle, you'll want to make sure your tire pressure is where it needs to be. Furthermore, if there are any leaks coming from your car, you'll want to patch those before you move. Nobody wants to arrive at their destination and realize transmission fluid has been leaking the whole time. Even if there doesn't seem to be anything wrong with your car currently, this will save you a headache in the long run.
Clean the outside
Treat your windows to a wipe, and while you're at it, give the whole car a bath. This can especially be fun for kids to do in the summertime (put them to work!) but a car wash can do just as well. Cleaning the car before your move will also help you to see any dust, dents, or dings that are already on the vehicle, and to be mindful of that during your move.
… And the inside
We all know somebody with a messy car, and maybe that somebody is you. Either way, it's good to do a deep clean of your car before it hits the road. Before you move, take out the trash, clean beneath the seats, give the floors a good vacuum, and wipe down the dashboard. Not only will this stop your stuff from bouncing around, but it'll be refreshing to open your car at your new spot and find it freshly cleaned.
Don't gas up
Make sure that before you load up your car for transport, you're running it on the road to use up the gas in the tank. Since your car will be transported, not driven, leaving your tank about quarter full will be fine and will help you cut down on additional transportation costs.
Lock up and keep the spare keys
Your long-distance mover will likely need a set of keys in case they need to move the car, but keeping the doors locked during the move will help to protect against theft. Be sure to keep the spare pair on you as an extra precaution, and so that you'll be ready right away to drive your car to its new home!
Sign your bill of lading
This bill must be signed as a contract and protection for your vehicle by you and your long-distance movers before they depart. This document will consider the condition of your vehicle before transportation, where it's coming from, where it's going, and will take note of any mechanical issues already present. After this step, you're ready to hit the road!
Move with Bird's
Bird's moving is your long-distance moving go-to. We've been in the business for a long time. Since 1933, we've serviced St. Catharines and beyond. If you need your car shipped to its new spot, connect with us today to get moving.
Comments