Flipping Your House Without Flipping Your Lid
May 31, 2019 @ 9:00am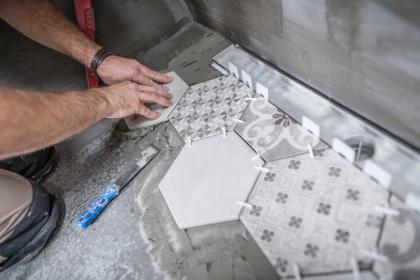 Flipping your house? Don't flip out! Going through the, sometimes long, process of flipping your home to get it ready to sell can certainly test the strength of your sanity. If you're starting your house flipping project, we have a few tips to help you breeze through your renovations.
Only change what you need to
The best home flips only require cosmetic changes. Realtor.com warns against making renovations that are only going to cut into your profit. Things that are affordable and make a good return on your investment are often things that you can even DIY.
Paint is a good first step. A fresh coat of paint can give your home an incredible facelift and doesn't require you to wait on permits or professionals.
Other great, cosmetic changes include new cabinets, counter tops and flooring as well as easier things like new hardware, updated light fixtures and new door knobs.
Consider changing:
Towel bars
Coat hooks
Cabinet and drawer pulls
Curtains and blinds
Area rugs
Light fixtures
Replacing light bulbs
Floor /ceiling vent covers
Work at a pace that makes sense
How fast you should flip your home ultimately depends on how you are using your home. Are you still living in it? Do you have closing deadlines on a new home? These factors determine how quick to flip, and how much stress you should place on yourself for meeting deadlines.
Find contractors who are reliable and will help you meet your timeline goals while not putting yourself into such a time crunch that you'll earn some early grey hair.
Don't over-improve your home
Do not try to create your dream home in the home you are flipping. This is a mistake that people tend to make when they want every, last detail to be perfect. You're not going to live there, make sure you are making choices that will appeal to the masses and get you the best return on your investments. Over spending and over designing can be costly and time consuming.
Give your home a deep clean
Fresh carpets, shiny floors and sparkling windows make a stellar first impression and is an easy task to complete yourself. This muscle maintenance might seem like overkill in a home you are about to vacate but will go miles in making your home appealing to buyers. Little things often make the difference in buyers making an offer. Consider cleaning often overlooked items too like refrigerator drawers and window tracks. Besides, cleaning is a great stress reducer!
Don't forget to clean:
Rarely used guest bathrooms
Front and back porches
Pantry shelves
Stairwells
Baseboards
Purge, purge, purge
We like to call it "curated living", others call it purging. Pack up the things you don't need right away and send them to storage. Use this as an opportunity to cleanse your home and your belongings of things that you no longer use, or that simply take up space. Closets are a great place to start because we tend to put things into the depths of our closets and forget about them.
Set the perfect stage
Staging can make a huge difference if done well, so do your best to hide the clutter and move personal items out of the way. You want to present the best home for someone else to live in. So, you will need to make it seem like you don't live there. Move furniture so that it looks good in your space, arrange items to be aesthetically pleasing and clear kitchen counter tops.
Yard work makes the dream work
Remember that you only get one chance to make a first impression. On that note, you want your lawn and landscaping to speak for itself. Keep the grass trimmed and watered, buy flowering plants to place in pots around walkways and decking and make sure your home stands out in the neighbourhood.
Do your homework
Knowing the market in your city is a powerful tool in your overall home flipping success story. Make sure you research and speak with others in the community, even talking to multiple realtors is a good idea. Putting in the time to learn these things will only make it easier as your project progresses and will help to put your mind at ease if you hit any snags in the timeline.
Of course, you know who to call when it's time to move out and make way for the happy new owners!
Call Bird's Moving and Storage as soon as you can. It's best to give your moving company four to six week's notice, if possible. The more lead time you can give, the more likely we will be able to meet the best schedule to suit your needs.
Comments