Four easy tips for packing fragile items
July 30, 2013 @ 3:45pm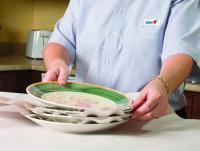 We all have some very special china or fragile items that are very special to us. Loosing or breaking these items can make an exciting moving experience turn into a sad memory. Preventing moving damages is really just a matter of adequate preparation and having the right tools.
Here are our easy tips to pack up your fragile items and keep them safe:
1. Prepare in advance. Packing up valuable crystal, porcelain and other breakables requires some time. This is not the place to rush. If you are not hiring movers, start well in advance of moving day and take the time to properly pack these items.
2. Have the right tools. Here's what you need: china cartons, clean newsprint and tissue paper for wrapping and cushioning, tape, scissors and markers.
3. How to pack the most popular fragile items.
Plates – Start with placing 3"-4" layer of crushed paper in the bottom of a china carton. Place several layers of wrapping paper on your work table. Place one plate on the paper and fold the corner of one or two sheets diagonally over the plate. Place another plate on top and fold another piece of paper over it. Add two more plates in the same manner. Fold the sides of the paper over the bundle and roll the plates, keeping the sides of the paper straight for a neat bundle. Place bundles ON EDGE in the carton and pack them snug. When you have completed a layer in the carton, place another layer of crushed paper over it.
Glasses – Wrap cups or glasses individually and protect handles with an extra sheet of paper. Place them upside-down with handles toward the inside of the carton. Keep them at the top of the carton so there will be less weight on top of them. Wrap and nest bowls into each other and pack on edge. Smaller items can be wrapped and nested inside the bowls, pans, canister etc. wrap sugar bowls lids in coloured paper and place upside-down on top of the bowl. Then wrap the bowl in to sheets of paper.
Lamps - lamp shades should be boxed (flat side down) separately with lots of paper. Bases can be placed in a large box if necessary and paper used where appropriate. Remove the bulb and harp and roll up the cord. Wrap the base, bulb and harp individually and place together in a carton. Tiffany type and other glass shades and chandeliers should be professionally packed.
Pictures/Frames - picture frames should be placed in paper lined small to medium boxes, and standing if more than 8 inches, with crumpled paper in between each piece. Wrap frames in packing paper. Top frames with more packing paper to ensure items don't move around in the box. Pictures that are over 3 feet in size should be packed in a mirror/picture carton.
Many people use old towels, small blankets, newsprint, or even paper towels to wrap their fragile items. These are not wise choices. Newsprint can be dirty and means you have even more washing to do in your new home. Paper towels are not strong or reliable. Old towels slip easy and cannot be secured with tape, which is essential for proper packing of valuables. Please invest in the proper tools and you won't be sorry.
Finally, be sure to let your movers know which boxes contain fragile items.
If you are at all unsure about your packing skill, ask for help. Bird's Moving & Storage carry specialized boxes for fragile items, such as china carons and mirror/picture cartons that they keep in stock.
Comments