Much More Than Heavy Lifting on Moving Day
July 31, 2020 @ 5:01pm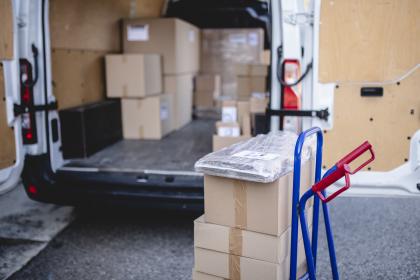 What comes to mind when you think of moving day? Is it frantic, last-minute packing? Maybe it's the excitement of a fresh start. Or, perhaps you envision a team of efficient movers, scurrying to and fro as they skillfully whisk your valuables out of your home and into the moving truck! An exceptional move is something that Bird's Moving and Storage can help you do with confidence. But, as a St. Catharines moving company, we credit our decades of success to more than just our work ethic: our state-of-the-art equipment and our attention to detail is crucial to executing a stress-free move. All of our equipment is properly maintained and assembled to protect the home you're moving out of and the home you're moving into. Our standards protect more than just your floors: they protect our workers, too!
Our Equipment Line-Up
In addition to our standard flooring covers and moving pads, which will prevent your floors and large pieces of furniture from being damaged, our team will outfit themselves with the proper equipment to make sure that they can complete your move on time.
As a busy homeowner, you may not own all the tools that are required to help safely transport your furniture from one place or another. In fact, you may even worry about supplying your movers with the appropriate tools for the job. However, as a St. Catharines moving company, we will bring the tools to you. It's not just our job to move the furniture; we want to come prepared. If you're interested in our moving services, you'll benefit from booking a meeting with one of our consultants, who will help you to assess not only the duration and cost of your move, but also the equipment that will be needed.
Our team regularly uses the following pieces of equipment:
· Dollies: Generally, we use one of two dolly types to keep your furniture secure. A utility dolly is tall with two wheels and stands upright. It's ideal for stacking boxes and for reducing the number of trips you need to make. We also use furniture dollies, which are flat and have four wheels, to transport heavy and awkwardly shaped pieces of furniture.
· Moving Blankets or Pads: We use these to help protect furniture from dust or other elements, and to prevent your wardrobes, sides tables or chairs from scratches or tears. If an item is particularly valuable, it's a good idea to keep it safe and snug under a moving blanket.
· Floor Covers: Covering your floor will safeguard against any dirt, scratches or abrasions caused by shifting furniture.
· Uninstalling Doors: Sometimes, the only thing that's standing between your couch and the moving van is a door frame. Removing the door from its hinges won't just give movers a little extra leverage, but a little extra room to get your sofa through the door safely without hurting themselves, the furniture or the door!
· Disassembling furniture: Our crew also comes prepare to help you disassemble and reassemble large items to make them easier to pack and move.
· Walk boards: Walk boards act as a sort of ramp to provide additional accessibility in and out of homes and moving vans. They're specially designed to withstand heavy weight, reduce the risk of slipping and minimize strain on movers who are lifting objects in and out of the van.
If you're feeling overwhelmed by all the extra hardware involved in a move, we've been a St. Catharines moving company for decades and understand first-hand the challenges that can accompany your moving day. So, we also provide our customers with wardrobe cartons for clothes, industrial grade shrink wrap for upholstery and specialized TV wraps that help protect screens during your move.
Protect Your Back and Peace of Mind From Moving-Day Jitters
Although many homeowners solicit help from friends and neighbours, a Do-it-Yourself move can be tricky to pull off, especially since most furniture can be difficult to move. Our years of care and expertise have given us the equipment and performance necessary to become one of St. Catharines' most reliable moving companies. Get in touch with us today for a customized consultation to see how you can make your move stress-free with Bird's Moving Company.
Comments