Asking the Right Questions: Pt. 2
February 4, 2020 @ 11:15am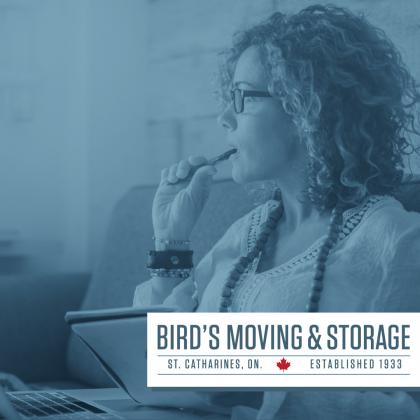 We know that the moving process can be a bit cryptic and confusing; so, if you're feeling befuddled by packing boxes, look no further than Bird's Moving and Storage. Start here with us: As a St. Catharines moving company, we've been helping you move around town (and further) since 1933. And, because we've been in business for such a long time, we want to give you a list of "best questions" to ask your moving company so you can move with confidence.
We're presenting you with three new questions from our "Best Questions to Ask Your Moving Company" series! Although these questions are simple, they'll serve as a gateway between you and your moving company to ensure that you get the information you need to feel excited about your move.
The Big Three
If you're in the process of hiring a moving company, we recommend you ask the following before signing on with anyone:
Are they your employees or is this contracted out?

Do you offer any type of insurance for my belongings?

Do you require any payment upfront?
Did you miss January's "Asking the Right Questions" list? You can find them here! After all, something as important as the relocation of your home can't be narrowed down to three questions, so we're proud to give you fresh ideas for February.
1. Are they your employees or is this contracted out?
Although an inquiry about who you are actually doing business with might seem obvious, it's best to ask any St. Catharines moving company about its credentials and business style before signing off on their services.
You'll feel safer knowing that the movers are operating with their own employees that are fully qualified and insured (WSIB) to operate a moving truck and to transport your valuables.
Licensed and experienced movers will know not only how to load the vehicle safely, the limits of his vehicle to ensure that everything makes it to the destination in one piece.
2. Do you offer any type of insurance for my belongings?
You have it for everything else: for your car, your home, traveling, health, and even your life. But what about insurance for your move? When you decide to pack up and relocate, it's imperative to ask prospective moving companies about their insurance policies, and how they cope with unexpected accidents or damages. Educating yourself on various policies will help you find a Niagara/St. Catharines moving company that's right for you.
It's not just the transportation aspect of the move that you need to be insured for: You'll want to know whether you're covered if your new (or existing!) home is damaged during the moving process. Inquire about all aspects of insurance and seek to understand if both origin and destination homes as well as your belongings are eligible for coverage.
Your move should be filled with joy, not with insurance claims!
3. Do you require any payment upfront?
It is important to know if the company you are leaning towards booking requires any type of down payment, and likewise what would happen if you change or cancel the date you were booked in for.
Some movers do not charge anything, some charge a certain dollar amount, and some may charge a percentage of the estimated amount. Know this ahead of time will help you make an informed decision when choosing your mover.
Paying a deposit may not be a bad thing either! It ends up giving you peace of mind knowing you have officially booked your mover and you now have a paper trail confirming this.
Don't feel nervous or uncomfortable inquiring about fees—any reputable St. Catharines moving company will be ready and willing to provide you with the answers you need to feel secure with their services!
A St. Catharines Moving Company that Makes You Feel Safe!
Keeping yourself informed through these questions will help you choose a professional and pleasant moving company. Even when adjustments need to be made, you'll have the answers and support necessary to overcome any obstacle.
At Bird's Moving and Storage, we have everything you need to keep moving. Do you have questions of your own? We've got you covered: Visit our FAQ's to satisfy your curiosities, or contact us today!
Comments